Welcome to the Event Sign Ups page! Cal Rotaract hosts a variety of events for our members to enjoy and attend. If you would like to sign up for one of them, all the sign up links are listed down below for your convenience*.
Missed a General Meeting or Welcome Week event? No worries! Click here to access the meeting event slides!
Hope to see you all at our events!!!
*Last Updated 11/27/22
Please note that this page is updated regularly. If a link to an event is not listed below then the info is not yet available or has not been updated yet. If you have any questions please email [email protected]
Click any of the following to jump to a particular section:
Like gaming? Like meeting new people? Like gaming while meeting with new people? Come join our Rotaract Discord! We have several channels where you can find members who play the same games you do such as League of Legends, Minecraft, etc. This is also where you can join us when we host Rotaract gaming socials as well, and will post some club notifications occasionally (if you want a more reliable source of information please check out our Facebook group Cal Rotaract 2022).  Click here to join the Rotaract Discord server.
Rotaract Programs/ Applications
Family Preference Form
Open All Semester! |

Form

Link
Be part of one of our amazing Rotaract families for the semester. If you are a returning member, please fill out this form to indicate if you'd like to remain in the same family or join a new one. If you are a new member, please. fill out this form to indicate which family you'd like to join. This form will be open all semester, so it is never too late to join!
Rotaract Committees
Click any of the following tabs to take you to the zoom meeting for each committee! Check out our event calendar here to find out when our next committee meetings are 🙂
Local Committee Meetings
Learn about local issues affecting our community and upcoming service events!
Interact Committee Meetings
Help plan events and mentor Interactors, the high school version of Rotaract!
International Committee Meetings
Learn about international issues affecting our society and upcoming service events!
Interact Meeting #11
December 1st 8-9PM in Social Sciences 151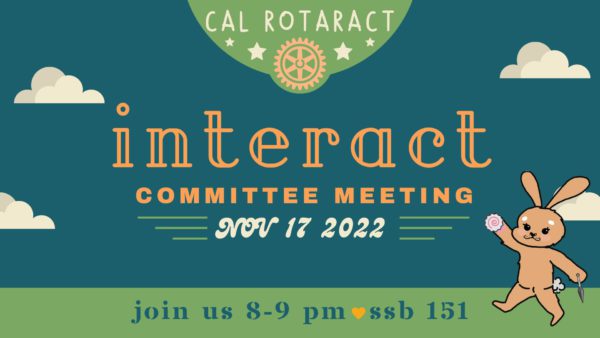 Join the Interact Committee in wrapping up the semester with a pizza party!
For more info, click
here
.
Banquet
December 2nd 7-10PM in Clark Kerr Garden Room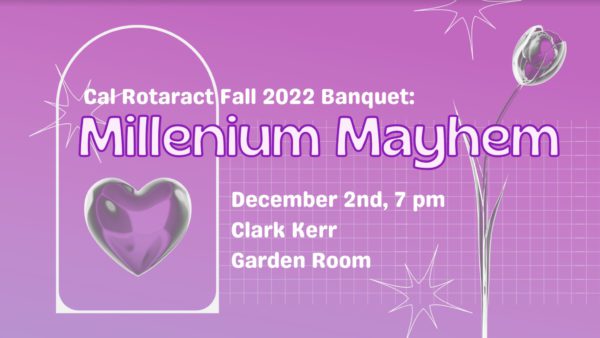 Join us in celebrating the end of the semester at the Fall Banquet on December 2nd from 7-10pm at the Clark Kerr Garden Room! This semester we're flashing back to the early 2000s with our "Millennium Mayhem" theme. This is a time to unwind, reflect on all the great things we've accomplished this semester, and celebrate your fellow Rotaract members! We'll have some sick performances and an awesome raffle!
Ticket form: 
tinyurl.com/FellowshipBanquet22
Performance form:
Tinyurl.com/FellowshipPerformance22
Prices:
Members - $6
Nonmembers - $8
Performers - $3
Additional Raffle Tickets - $1 each
*Each ticket comes with an automatic entry into the raffle! Also, if an officer reached out about purchasing a ticket, feel free to list them on the form!
For more info, click
here
.