Welcome to the Event Sign Ups page! Cal Rotaract hosts a variety of events for our members to enjoy and attend. If you would like to sign up for one of them, all the sign up links are listed down below for your convenience*.
Missed a General Meeting or Welcome Week event? No worries! Click here to access the meeting event slides!
Hope to see you all at our events!!!
*Last Updated 5/3/21
Please note that this page is updated regularly. If a link to an event is not listed below then the info is not yet available or has not been updated yet. If you have any questions please email humanrelations@calrotaract.org
Click any of the following to jump to a particular section:
Like gaming? Like meeting new people? Like gaming while meeting with new people? Come join our Rotaract Discord! We have several channels where you can find members who play the same games you do such as League of Legends, Minecraft, etc. This is also where you can join us when we host Rotaract gaming socials as well, and will post some club notifications occasionally (if you want a more reliable source of information please check out our Facebook group Cal Rotaract 2021).  Click here to join the Rotaract Discord server.
LoCo Kick-Off Form
Form Link:  Click HERE
Thank you so much for your interest in joining Cal Rotaract's Local Committee. Our names are Bryan & Naomi, and we are super excited and honored to be your Committee Chairs this year. To start our semester on a strong note, we wanted to get your feedback and insights to set clear intentions for the upcoming semester.
Please take the time to answer each question in detail, and provide as much detail as you wish. We look forward to getting to know you all better soon!
Yours in Service,
Bryan & Naomi
Family Preference Form
Form Link: Click HERE
Interested in joining our Family System? Click here to fill out the Family Preference form to be placed into one of our amazing families! You can fill out this form at any time during the semester and we will try to let you know your family placement as soon as possible. If you have any further questions or concerns, feel free to reach out to fellowship@calrotaract.org.
Rotaract Committees
Click any of the following tabs to take you to the zoom meeting for each committee! Check out our event calendar here to find out when our next committee meetings are 🙂
Learn about international issues affecting our society and upcoming service events!
Asian American Community Statement | Donation Form Link
An open letter against anti-Asian violence by the Cal Rotaract Executive Board from the University of California, Berkeley, using our voice to rise in solidarity against racial injustice and in favor of anti-racist actions in the local community and internationally:
We, Cal Rotaract, would like to use our voice to stand with the Asian American community in these times of mourning and protest. Across the United States, members of the Asian American community face a rise in discrimination and racial violence. We stand in solidarity with the Asian American movement and acknowledge that the increase of media attention in recent weeks does not fully account for the silence that has prevailed for centuries of xenophobia and discrimination against Asian American communities in the United States, whose experiences often go unnoticed to the general population.
We have witnessed the horrendous consequences of racism in this country when eight people in Atlanta—including six women of Asian descent—met an unjust death at the Youngs Asian Massage Parlor on March 16th, 2021. As a community, we aim to be intentional in addressing our country's failure in condemning racism and misogyny as well as protecting vulnerable and marginalized communities. We want to learn from our history and understand the manifestations of oppression today in order to dismantle white supremacy and its lethal consequences. We must acknowledge the centuries of both de jure and de facto oppression of diverse Asian communities that reside in and have contributed to building up the United States of America.
The Asian and Asian American community is being asked to carry an enormous weight right now, including the burdens of silence they have carried for decades. Cal Rotaract stands in solidarity with you, as well as our Asian American partners and community members. We extend our support to the families who were negatively impacted and actively condemn racism, bigotry, and xenophobia. We will always strive to serve our communities.
Cal Rotaract Executive Board 2021
Cal Rotaract will also be donating a portion of our funds to Bay Area organizations that support and empower the Asian and Asian American community.
For the first 50 people to fill out the form, we will donate $10 to one of the three organizations of their choice.
Three Options for Donation:
Asian American and Asian Diaspora Studies Endowment at Cal
GoFundMe for the Victim of the Oakland Attack
Additionally, here is a list of resources that you can use to educate and support the AAPI community:
(Comprehensive carrd with resources that have been gathered to help individuals educate others, take action, donate, and more)
(Massachusetts Town Hall on Anti-Asian Racism Resource Guide)
(Public accommodation laws based on race, color, and/or national origin)
(Mental health resource for AAPI teenagers and young adults)
(Comprehensive list of donation sites)
Cal Rotaract Banquet Week | May 3-7th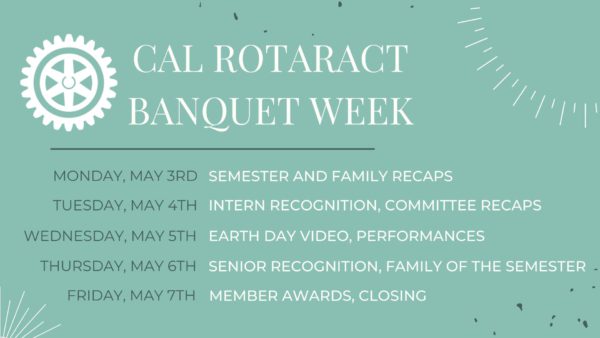 Hey y'all we are one day away from the start of Banquet Week! Take a break from studying and join us each day of dead week for posts recaping the semester and all the amazing things we were able to do as a club!